Cyprus International Film Festival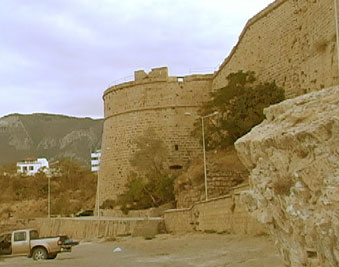 The story is that the goddess Aphrodite was born on the island of Cyprus thousands of years ago. Arriving in Nicosia we found many modern buildings banks, clothing stores, etc. In the Old City there were many charming stores and restaurants blighted my the intrusion of McDonalds, Starbucks, and KFC. Palm trees lined the streets as 82 temperatures kept the island summer-like when we were there. We did find local restaurants with outstanding Greek food. I went to Cyprus with Lee and Jessa two actors from my movie. Our primary mission was not to find olives and shish kebob but to premiere my nine minute movie Don't Spill the Eggs in the Cyprus International Film Festival.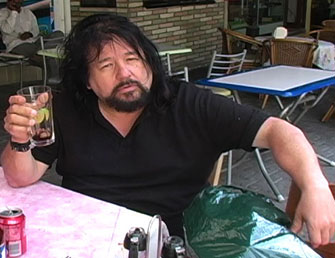 The hotel we stayed at helped get us ready for the festival by serving scrambled and boiled eggs every morning. After breakfast we strolled along to the souvenir stores which featured small copper statuettes of Leonidas, Hera, Aphrodite, and various ancient Greek warriors.
One store had a rack out side filled with rubber chickens. Every ten minutes without fail some tourist would come by and squeeze one of the chickens which would let out a squeak. We visited Byzantine churches and local museums and explored the Venetian wall. Sections of the wall built by the Venetian empire are still standing all around town.

University of Nicosia Cine theater hosted the Cyprus International Film Festival.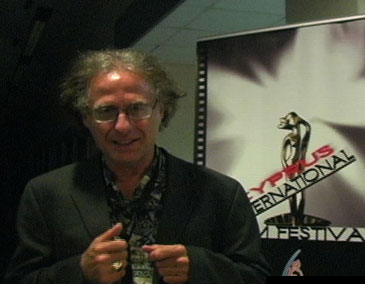 There was a movie Oppression a black and white movie about a woman who kills her own son, Dulcis in Fundo about a woman meticulously staging her own suicide, Mans Best Friend about a reluctant cop who is ordered to kill his aging police dog that he has become too fond. The feature that night was I shall Remember as story of a boy's recollections of the Nazi occupation of the Russian Caucussus in WW II. The first night of movies was a grim and dark experience.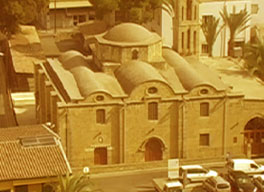 We stayed in the Greek part of Nicosia but also crossed the checkpoint into the Turkish part. It was definitely a radical different culture with old shops and restaurants, and prayers broadcasts from the local mosque. The people dress a bit more conservatively than the Greeks though women are often seen in modern fashions. We had a shish kebob lunch in the legendary courtyard of Buyuk Han a fortress built in the Ottoman period.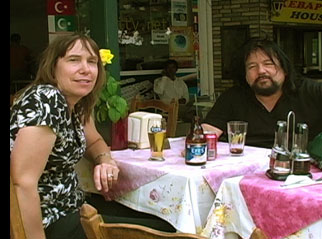 Lee and Jessa saw a rug they wanted from a few guys operating out of a condemned warehouse with no signs or visible indication of legitimate business. They agreed to a price but the question was how to get the rug to Boston. They couldn't bring it across the Nicosia checkpoint.
It couldn't be mailed from a country that was only recognized by Turkey. The rug guys said they would send it over by courier when one of their friends visited America. When the courier idea had about as much plausibility as delivering it by magic carpet the deal became shadier than a mangy goat hiding under a palm tree.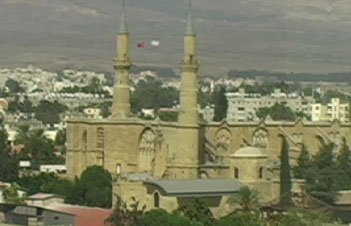 The next night's films were much less dark than Sunday night. The movie Flu by Syrian director Riad Makdessi was about a Middle eastern village where fish are drying up. People are catching the flu but the symptoms aren't sneezing and coughing. Everyone in the village catches this flu and it leads to a contagion of non-stop laughing. The feature that night Love Story was about an Indonesian boy and girl who defy an age old curse that promises misfortune to any lovers from opposite sides of the local river.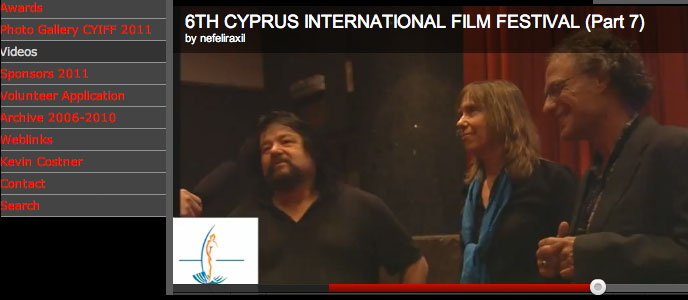 This was the big night for the Eggs film. There were short films about liposuction, policemen, and a guy who kidnaps his own son from foster parents. There was a controversial documentary memories by Panicos Neocleous about the Greek Turkish Cyprus war of 1974.

Finally the festival screened Don't Spill the Eggs. The audience was intrigued and responded with laughter and applause. The festival organizers interviewed Lee, Jessa, and myself about the movie. They were impressed not just with the surrealist comedy and acting but with the poem itself and the mix with animation.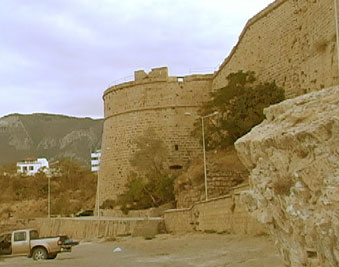 On our final day in Cyprus we took a bus on the Turkish side to the harbor resort town of Kyrenia on the Mediterranean sea where they have a Byzantine castle, casinos, and turkish coffee.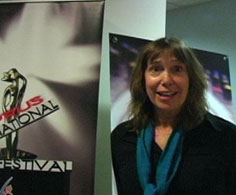 That night I took the 1:00 PM bus to Larnaca airport and waited to check in for my 5:00 fight. Originally I wanted to get off the plane and visit London but instead I crashed out at Heathrow from exhaustion. If you have to get stuck in an airport Heathrow is the best. They have all these interesting stores. I read a book about the Beatles by Hunter Davies. Arriving back in Boston I walked down the street but there were no palm trees in sight.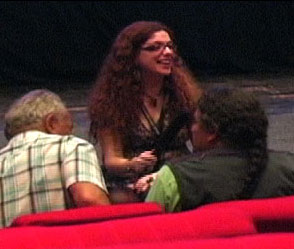 Posted by mcusiman at 2:21 PM EDT
Updated: Tuesday, 8 November 2011 9:43 PM EST