©2003 By Mick Cusimano April 25, 2003
1972 while hitchhiking through New England with my friend Dave we stopped at the Boston Common. There was a concert going on outside with The Doors and Doctor John. This Los Angeles band was winding down after Jim Morrison died and was about to break up. After many years of rumors, books, and a movie The Doors recently embarked on a new tour.
Tonight I saw The Doors for the first time in 30 years. Ray Manzarek and Robbie Krieger were joined buy a new singer Ian Astbury, a new drummer, and bass player to relive their old music once again. It was a good concert. The band did their many legendary songs. Light my Fire, When the Music's Over, Love Me Two Times, Five to One, Crystal Ship, etc. Interestingly enough the high point of the show was when the band did L.A. Woman and Riders on a Storm…. two songs that Morrison never sang on stage.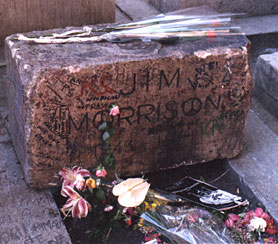 The keyboards of Manzarek and Robbie's guitar had the same magic as I remember on the original albums. Comparing Ian Astbury to Jim Morrison would be pointless? Give the guy a break! No one could try to be another Jim Morrison. He is simply part of a newer evolution in a timeless band. The band didn't do The End or Celebration of the Lizard. The Celebration of the Lizard is lesser known poetry performance piece but an amazing one. When I first moved to Boston doing cartoons for some local poets I wanted to get on stage and read poetry myself. Before I wrote my own material I got on stage for the first time and read Celebration of the Lizard. The poetry may be filled with hallucinatory hard to understand imagery. But this one poem is an encyclopedia of the whole range of poetry. It has everything in it you could want: it's loud, it's quite, it's fast, then it's slow. It's dramatic, it's peaceful and takes you on a surreal journey. Unlike heavy metal bands with a monotone bang your head against the wall rhythm The Doors music covered a much wider range.
I've always been amazed at how 4 kids in their early twenties could come up with a dramatic piece with so many different elements. Then I heard a radio interview with Ray Manzarek. The range of this band had came from film school. All the dramatic elements that Manzarek & Morrison learned about varying pace and tempo in movies at U.C.L.A. film school they used in music instead. That is why their music still resonates in the ears and imaginations of people over 30 years later.