M.A.I.N.S. Paris Art Exposition
(Mouvement Artistique International des Nouveaux Surréalistes)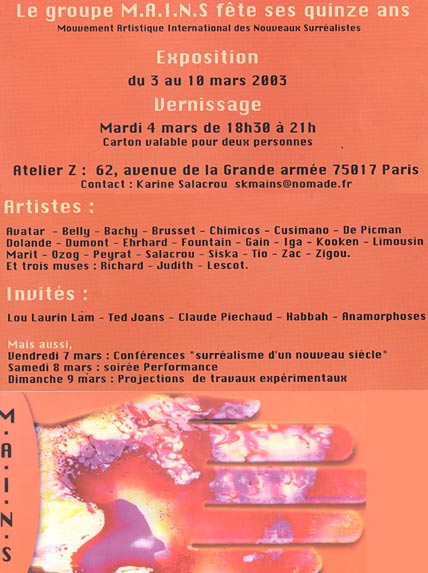 In 2003 I was invited to be in a surrealist art show in Paris.
How could I pass up an opportunity like that?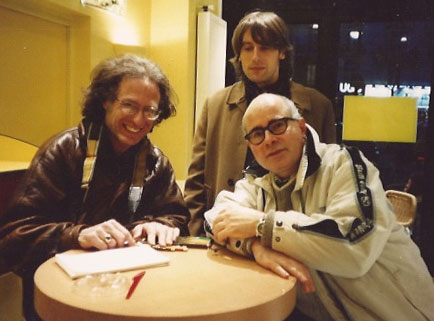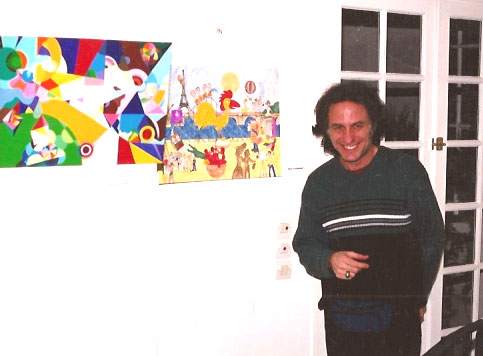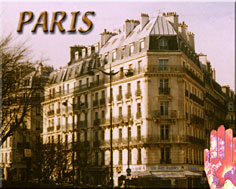 Photos from Gallery Atelier Z
---
M.A.I.N.S. New Surrealists website
---
Paris The City
---
This story was made into a movie that premiered at the Ruff Cutz Film Festival
Paris ©2003 Mick Cusimano
I'm unable to sleep on the Air France trip from Boston to Paris. The flight attendants are constantly plying the passengers with food, drinks, bread, and bottles of wine. I Check into my hotel room & take the Metro to Champs Ellysses, the famous wide avenue in Paris with many shops and old buildings. There are record shops, boutiques, and Jack Nicholson's picture on half the kiosks in town. I walk around the Arch De Triomphe and down Rue De La Grande Armee looking for the Altelier Z Gallery.
Walking towards the gallery I think back to how I ever got to be here. Back in 1989 traveling to Europe with 3 other poets by chance we met a guy handing out pamphlets for his group The New Surrealists. (M.A.I.N.S.) I gave him a copy of my magazine Underground Surrealist. Once a year founder David Belly would send me a collage in French which I didn't understand. I would in turn send him cartoons in English that he didn't understand... yet we kept corresponding for 14 years. Last year he asked me if I wanted to be part of the New Surrealists Art show. I sent my drawing The Night of Red Jazz and I bought a plane ticket. What would it be like to be part of a Paris art show? What would the New Surrealists be like? Knowing little more than phrasebook French and hearing warnings about Americans being unpopular with the impending Iraq war I really didn't know what to expect.
To get ready for the trip I watched French movies for a week: "An American in Paris" had Gene Kelly dancing and singing through the movie. In one sequence his drawing of a garden comes alive and he dances around cardboard cutouts of Toulouse Lautrec paintings.
I walked into Galerie Atelier Z where Karine the curator welcomed me. My drawing "The Night of Red Jazz" was hanging on the wall by the stairs. The New Surrealists were having a reunion since their last show four years ago. I was introduced not as the Professor of Surrealism: To my astonishment they considered me not just a guest but a full fledged member of the group. I had only met David Belly before but had occasionally corresponded with artists Argus Avatar & Nora Picman. Picman had created a large ceramic Buddha. Argus was dressed up with silver gloves, a mid-eastern hat, and a cane. One of his paintings had propellers attached to them. There was le sculptor Jacky Kooken with a giant handlebar mustache along with other talented and interesting artists.
The opening the following night 600 guests showed up. There were art lovers, professionals, singers, musicians, and poets. If counting all the mink coats was an indication the show was a big success. A dancer Maria came by wearing a Mardi Gras mask. Artist Argus Avatar paraded around with silver gloves and a sword.
The next day I walked over to the left bank by the Pantheon. There was a hotel there called the Hotel Des Grands Hommes. This is where Andre Breton discovered surrealism. In his book Nadja he recounts how he started out on a walk through Paris searching for a moment of convulsive beauty. From the hotel he walked around and by chance met a woman Nadja. He wrote a famous book about her. I found the hotel but wasn't led by any mystical force in any direction so I stopped off at a café on Rue Soufflot. While drinking coffee I heard the convulsive noise of a crowd, cheering, drumming, and chanting. Following the sound I discovered an anti Iraq war demonstration of 1000 people waving banners and chanting slogans. Most of the crowd seemed to be high school kids skipping school for a fun afternoon.
That night at the gallery there was a roundtable discussion about surrealism and the creative process: what lies beneath the creative process? Does inspiration come from the subconscious or a spiritual source? The amazing thing was that 50 people showed up for this intellectual discussion something I've seen in America...never, not even in academic settings. There is a whole philosophical intellectual life that the French have that doesn't seem to have parallels: at least in America where you're more likely to hear a heated discussion about the Oakland Raider's Defense. The people who were there: young, old, women, and men, all equally expressing intense opinions about the subject. I wish I knew more French so I could have understood their passionate dialogue.
Afterwards red wine flowed all night in the gallery. Several women who had lived in California liked my drawing. When I showed them photos of Boston poets they really got excited and crowded around to see them. Later this guy Jean Baptiste who played saxophone took me out for Chinese food near Chatelet a section of town with fabulous jazz clubs which I didn't have time to explore.
The next day I went out to lunch for couscous with David and Jacques. They showed me video of the last group show in a gallery in 1999. That night we met Karine and her mother and went walking through St. Germain visiting dozens of art galleries that had openings that night. David made sure to hand out flyers to our show to anyone who looked like a likely prospect. We ran into artist Jean Baptiste at one gallery. He made some kind of wise guy comment to David Belly about Andre Breton.
On Friday I went to the Louvre to see the Roman & Egyptian art and giant French paintings of Napoleon, etc. Thousands of American, Japanese, and other school kids swarmed through the galleries ended up at the Mona Lisa. I met David and Jacques at Tour St Jacques. They took me to a basement book store which had many obscure books about Breton, Minotaure Magazine, and the surrealist artists.
That night at the gallery there was another discussion: a debate about surrealism. People were asked what they thought about upcoming sale of Andre Breton's estate: all his writings that may be lost to the public. David told stories about how he met me and others in the group by chance. David had the group create an exquisite corpse. Each person wrote a line on a sheet of paper without seeing the one before it. Then at the end he read the finished group poem out loud which elicited many laughs.
On Saturday I called the dancer/actress that I met at the opening. We had a rendezvous at the Musee' Picasso. Afterwards we headed to Altelier Z gallery. There was music and performance. Argus introduced me as the Professor of Surrealism and I read some poetry. The crowd didn't really understand the words so I did my performance stuff. When I did the Glasnost Shuffle and snapped my fingers swaying back and forth during the chorus the crowd joined in. I was able to communicate on a non-verbal level.
Afterwards we got on the subway and headed towards the Moulin Rouge to a fancy restaurant. We all gathered together to celebrate David Belly's birthday. Karine handed David a pin with the word M.A.I.N.S. engraved on it. This had been a fantastic week for meeting artists of vision and imagination. It certainly was a fine show in a beautiful gallery but as I couldn't understand French I picked up on other things. At that restaurant at that moment they handed David the pin I felt the real deep friendship and affection among the members of this group. For me this was the moment of convulsive beauty that made the whole trip worthwhile.
The next day I woke up at 2:00 PM and headed to the Musee' D'Orsay. It was too sunny and beautiful to be inside so I walked along the left bank and met a caricaturist on Pont Neuf. On the way home I found Alle De Andre Breton. Franklin Roosevelt and Clemencheu had their own avenues but the founder of surrealism was relegated to a short alley.
That night was film night at the surrealism gallery. Nora Picman showed a film of herself dancing through the snow, art galleries, and fields of Slovenia. David showed the video of the last M.A.I.N.S. art exhibition. Afterwards one woman had a party in her apartment where she played Rolling Stones and Beatles music as people swayed along to the beat.
On the last night I met Maria the dancer for dinner on the Left Bank and we walked across Pont Neuf. The Musee D'Orsay was on the left. The Louvre was on the right and the Eiffel tower was straight ahead. It occurred to me that I must be in a movie or a dream as we walked along the Seine deep into the Paris night.
---